Sue Bathe
Compliance Coordinator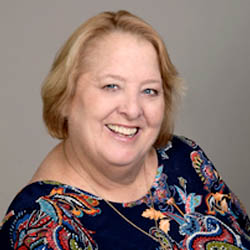 nonprofitcorr@viadecristo.org
My name is Suzanne (Sue) Bathe and I attended Texas Lutheran Via de Cristo #42 in the fall of 2001 and sat at the table of St. Ruth.
My husband Larry and I worship at St. Timothy Lutheran Church in Houston, where I grew up. I obtained my BS degree at The University of Texas at Austin in Health, Physical Education, and Speech Communications and my MS degree in Educational Administration at Prairie View A&M University. I also have a youth ministry certification from Wartburg/Vibrant Faith Ministries. We have been married for 27 years, we have a beautiful daughter, Angela who is married to John and they have gifted us with a wonderful granddaughter named Mary Louise.
I have chaired the organizing committee of our local Texas Gulf Coast Via de Cristo and served as the original Lay Director as well as in all positions on our weekends. Larry and I have also been working to serve as Co-Chairs for this years National Gathering, but unfortunately it is having to be put on hold due to Covid!
I have also been very active in DKG, a society of women educators. I have served as Chapter President twice as well as chaired many positions at the state level. In 2018 I was one of thirty women selected to attend the international leadership class held in Austin at the University of Texas where I had the awesome opportunity to work with women from around the world!
I am a physical education teacher and coach of 34 years. I enjoy singing in our church choir and playing handbells. I also have sung in our local Houston Choral Showcase Show Choir
Role Description
As a responsible servant of Jesus Christ, Non-Profit Compliance Coordinator will support the NLS and help educate affiliated secretariats on legal/statutory concerns and implications for not for-profit organizations. This person will also manage the audit processes for the NLS organization to help ensure key standards are upheld.
A National Lutheran Secretariat (NLS) Executive Board (EB) appointed position that is annually reviewed and renewable with mutual consent of the current appointee and the President, as well as the support of the Executive Committee (EC).
Serves without compensation; however, allowable personal expenses will be reimbursed.
Accountable to NLS Executive Committee (EC) through the Executive Director.
---
Essential Functions and Responsibilities
Pray for members of the NLS Board and affiliated secretariats.
Actively participate in a renewal group.
If requested by the NLS Treasurer, conduct, prepare and reconcile an annual accounting of all funds received and disbursed by the NLS to be made available to the President, Treasurer and Executive Director by July 31st.
Stay current with all non-profit and tax issues relating to NLS.
Through audit and education, help ensure compliance in key areas including, but not restricted to:

Maintaining its Minnesota Not-for-Profit status
Filing the organization's annual Tax Form 990
Filing the Minnesota Charities Report as required by the MN Attorney General's office
Filings, audit, and reporting related to the distribution center
Execution of audits for data integrity on website, database

When requested, attend the NLS Annual Gathering and meet with members of affiliated secretariats to help with not-for-profit questions and concerns.
Serves as a non-profit resource for NLS, affiliated secretariats and fledging communities wishing to affiliate with NLS.
Maintains an accurate and timely manual for this position including a timeline of responsibilities.
Provides an annual report of activities to the Vice President of Administration for inclusion in the Annual Gathering binder no later than June 1 of each year.
Other Duties
As assigned by the NLS President, Executive Director
Supervisory Responsibilities
None
---
Knowledge, Skills, and related Gifts
Possess a strong working knowledge of, and experience with, not-for-profit accounting/corporate issues/IRS and tax requirements
Demonstrate the ability to work well with others, often in a teaching capacity.
Some experience with auditing is a plus
Physical Demands
Participate in by-monthly NLS EB conference call meetings as needed.
Attend the Annual Gathering if possible