Marcia and Randy Poisel
Database Coordinators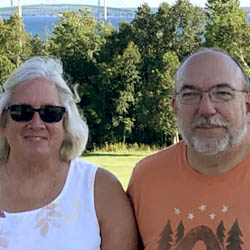 databasecoordinator@viadecristo.org
We are Marcia and Randy Poisel.
Marcia attended Indiana Women's weekend #23 and Randy attended Men's weekend #22, both in the fall of 1995. We worship our Lord and Savior at King of Glory Lutheran in Carmel IN. Marcia retired in 2009 after the birth of our first grandchild.
Randy is a senior systems analyst with a major student loan processing company. We play in a community handbell ensemble in Indianapolis. We enjoy camping, fishing, traveling and being in God's creation. We spend time with our 2 adult children and their spouses, and our 3 grandchildren.
Randy was pre-weekend chair for the Indiana-Kentucky VdC for several years. He was involved with automating the registration process for the organization. He also created the database for INKY, tracking the membership and service of team members on weekends.
We have served on a number of weekends. Both of us have had the honor of serving as Rectors. We were involved with the planning for and registration/housing of the attendees for the Annual Gatherings held in Indianapolis in 2007 and 2019.
We are happy to serve the National Via de Cristo as your database coordinator. God loves you and so do we. De Colores!
Role Description
The Database Coordinator is a responsible servant of Jesus Christ who wishes to glorify God by maintaining and safeguarding all NLS essential data. Of particular importance is the correct mailing address and contact information for all people associated with our VdC community.
A National Lutheran Secretariat (NLS) Executive Board (EB) appointed position with no fixed length of service. The position will be reviewed annually and continued only by mutual consent of the current appointee and the President with EC approval.
Serves without compensation.
Accountable to NLS EC through the Executive Director.
---
Essential Functions and Responsibilities
Pray regularly for the members of the NLS Board and the NLS affiliated secretariats.
Be an active member of a renewal group.
Has working knowledge of database software and Constant Contact. Work with Technology Administrator and Executive Director to find and highlight new technologies.
Maintain integrity of information provided by the EC, Regional Coordinators, Annual Gathering Host Committee and individuals.…make changes timely.
Maintain audit process to be performed at least annually to ensure data integrity is maintained, work with Nonprofit Compliance Coordinator.
Upon request, will search the database for particular information, Create and maintain "self service" options to streamline data flow.
Serve as a resource to other areas of NLS activities in utilizing database technology.
Maintains an accurate and timely manual for this position including a timeline of responsibilities.
Provides an annual report of activities to the VPA for inclusion in the Annual Gathering binder no later than June 1 of each year. And attend EC teleconference calls as needed.
---
Other Duties
As assigned by the NLS President, Executive Director.
Supervisory Responsibilities
None
Fiscal Responsibility
Appropriate expenditures/expense reports or receipts are to be filed with the NLS Treasurer that relate to the position, travel and need for meetings.
Working Conditions/Environment
Must have access to a computer with high speed internet.