Jim Ryan
Treasurer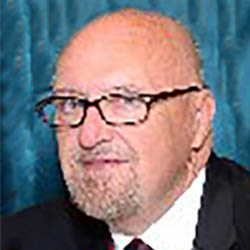 treasurer@viadecristo.org
DeColores, my name is Jim Ryan. I attended Indiana Men's Via de Cristo weekend #39 where I sat at the Table of Matthew. Today I am humbled to be allowed to serve as your National Treasurer.
As I think about it, most of my more significant life accomplishments have little to do with accounting, finance or business. They involve seeking ways and means to give back for the many blessings which have punctuated my life: my loving wife Lynn and our five living children (my three, her two), having enough freedom to seek out ministries which allow me to serve and grow in faith ever since my weekend in 2002, a loving and caring church community (Joining Hands Mission) and a Pastor who asks weekly "who is the Church?", then sends us out with the charge "now get out there and git'er done". My tally sheet also includes reunion brothers I love and the opportunity to serve with them and my fellow brothers and sisters in the in the greater Tampa Bay Sonbeam VdC community.
Professionally, I am about half-retired from a career providing audit and litigation support services through a financial consulting firm which represents the Insurance Regulatory community. I often joke that working with numbers is easy, but I accept your commission with both a humility for being able to serve God in this role as well as an appreciation of the fiduciary mantle you have placed on my shoulders. With Christ's help I will strive to be a faithful steward of the NLS treasury and justify the confidence you have shown me through my selection.
God Loves You and So Do I!
Role Description
The Treasurer is a responsible servant of Jesus Christ who wishes to glorify God by managing the NLS funds and maintaining the financial records.
Elected by the delegates at a National Lutheran Secretariat (NLS) meeting to serve a two-year term. Renewable by election for a second two-year term
Serves without compensation
Accountable to NLS President and the Executive Committee (EC)
---
Essential Functions and Responsibilities
Prays regularly for the leaders of the affiliated secretariats and the members of the NLS Executive Board (EB)
Participates as an active member of a Renewal Group
Collaborate with the Executive Director to build a fund raising plan as directed by the Executive Committee
Fiduciary responsibility for NLS funds

Receive and deposit funds.
Record contributions.
Record all other deposits.
Reconcile accounts – checking, savings and investment.
Pay all bills and reimbursements of expenses in a timely fashion.
Use compatible software to keep records (currently we use Quickbooks)
Maintain designated and restricted funds.
Prepare quarterly reports (Excel worksheets) and report to the EB.
Prepare the records for the fiscal year ending May 31 and provide to the designated agent for reconciliation by July 31.
Obtain the records from the NLS Distribution Center and merge with the General Ledger by a journal entry.
At the Annual Gathering, review the books of the Distribution Center and records or delegate to the designated agent.
Prepare reports for the Annual Gathering and send to the Host Committee in time for inclusion in the binder. Send this as "Preliminary" since the numbers can change during the Gathering. Bring the reports on disk in case adjustments are needed.
Present financial reports at the Annual Gathering.
Participate in the Mid-Year Meeting and National VdC Annual Gathering.

Mid-year: Present Profit and Loss and Balance Sheet reports, as of the end of the month prior to the meeting. Work with the Host Committee to create a budget for the upcoming National VdC Annual Gathering.
National VdC Annual Gathering: present the fiscal year reports to the gathered delegates; prepare a preliminary budget as a starting point for the Executive Board discussions; bring any other topics to the meeting to discuss or consider; make changes to the preliminary budget so it can be distributed at the Business Meeting on the second day when the budget is presented to the gathered delegates; and participate in a developmental workshop for Finance/Budget at the Annual Gathering as requested.

Send emails to all secretariats by February 15 requesting their dues payment for the current fiscal year.
Work with the Non-Profit Compliance Coordinator to verify, prepare and file necessary government and corporate forms: IRS Tax Report Form 990EZ, Annual Minnesota Corporate Registration, and Annual Minnesota Charities Report.
Other Duties
Provide an annual report of activities to the Vice President of Administration for inclusion in the Annual Gathering binder no later than June 15 of each year. Maintain an accurate and timely manual for this position including a timeline of
responsibilities. As assigned by the NLS President
Supervisory Responsibilities
Treasurer may engage a financial consultant to handle more technical aspects of accounting, as needed, and has the authority to interact with/utilize additional resources to assist with responsibilities, including the filling of appropriate federal, state and local taxes.
Train and assist in the transition of any future treasurers.
---
Knowledge, Skills, and Related Gifts
Accounting and financial record keeping skills
Diligence in follow through
Good time management skills
Able to create budgets
Work well with others
Additional Fiscal Responsibility
An offering is collected at one worship service National Annual Gathering. The EC will discuss and designate the use of these funds.
Physical Demands
Travel and time commitment for Mid-Year Meeting and Annual Gathering. Check writing.