And the Spirit immediately drove him out into the wilderness. He was in the wilderness forty days, tempted by Satan; and he was with the wild beasts; and the angels waited on him.
Mark 1:12-13
Sometimes I have wondered why the Spirit of God drove Jesus into the wilderness. We don't know for sure, but I am supposing that the Spirit's prompting wasn't by chance. The Spirit drove Jesus into the wilderness for some purpose. And if that is true, then perhaps we can look at our wilderness experiences and wonder if somehow the Spirit led us there.
The fact is that we rarely volunteer to go to wilderness places or places where we struggle. We don't usually look for opportunities to struggle even if we do something to cause us to land in the wilderness. Mark says the Spirit drove Jesus into the wilderness. Perhaps the same is true for our periods of trial, temptation, and struggle. We don't necessarily choose these either, they usually just happen to us. Even when the challenges in front of us are of our own making – we rarely intentionally seek such hardship. But can we possibly imagine that the Spirit of God might make use of our experiences during these challenges for our benefit?
I do not think that God causes us misery or suffering to punish us or to teach us something. The Spirit didn't tempt Jesus in the wilderness but rather drove him there. Neither do I believe that God wants us to suffer, nor does God cause us to. But I do believe that God is always with us in the wilderness. God is at work both for us and through us during our wilderness times. He never leaves us alone.
God wants only good things for God's children. And yet struggle, trial, and even misery are wilderness times for us, and they will come. It is simply part of our humanity.
Perhaps we can look at our struggles and ask, "Even though I did not want this to happen, how may God be at work in me and through me in this difficult time? How might God use me to help someone else in their struggle?" Questions like these might remind us of God's continued presence with us during these wilderness times. Because you know what? The same Spirit of God that descended upon Jesus at Baptism and drove him out into the wilderness was also with him all during those 40 days and brought him back again out of the wilderness to begin his ministry here on earth.
This makes me believe that God will not abandon us either during our times in the wilderness, but might also, from time to time, drive us there for our benefit or so that we can help someone else. We must remember that God does bring life out of death. As we begin our Lenten journey that is a good thing to hold on to. So I invite you to look at your struggles, hear the promise of God's presence with you, and then look for God at work in and through them for the sake of this world that God loves so much.
If we are going to follow Jesus to the cross in Lent, then the wilderness is our starting place. That is where Jesus and John the Baptist started so it must be a good place for us to start also. May God's Spirit walk with you through Lent for the victory of resurrection over death on the cross.
Questions
What wilderness places are you experiencing or have you experienced? Name them

How did you or do you recognize God's presence with you in that experience?

How does your wilderness experience help you know how to walk with another person in their wilderness experience?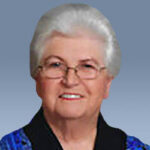 Sue is NLS Spiritual Director, since 2019 and is a retired Lutheran Pastor (ELCA). Active in VdC since 1995, she has served two terms on the Board of the Texas VdC Secretariat, and also on the Texas Gulf Coast VdC Board as Spiritual Director since its start-up in 2017.