And suddenly there was with the angel a multitude of the heavenly host, praising God and saying, "Glory to God in the highest heaven, and on earth peace among those whom he favors!" When the angels had left them and gone into heaven, the shepherds said to one another, "Let us go now to Bethlehem and see this thing that has taken place, which the Lord has made known to us."
Luke 2:13-15
The joyous event was not announced to dignitaries in palaces but to lowly shepherds working the night shift. This is in keeping with what Mary says in her song, Luke 1:52, that God "has brought down rulers from their thrones but has lifted up the humble." Surely the most humble of the humble in society in first century days were shepherds. Whenever an angel of the Lord appeared to anyone in Biblical history, the typical reaction was fear, and the response of the angel was, "Do not be afraid."
The angel told the shepherds that this Baby was born in the town of David, Bethlehem. As descendant of David, Jesus was to be a king. The angel said that a sign for them would be a baby wrapped in cloths and lying in a manger. A heavenly host lit up the Judean skies and filled the air with their praise not for the King and his court to see, but for lowly shepherds. What more of a sign is needed? The angel said "I am bringing you good news of great joy for all people." We might be tempted to see God's sense of humor here: an infant, who was supposed to be the Messiah, was being born in a feeding trough!
The sign was not just to help the shepherds find the Baby. The point of the sign is to confirm to them that this baby is indeed the promised Messiah for all people. They did not waste any time going to look for this baby. The shepherds rushed into Bethlehem. Here was the Messiah born in surroundings that were familiar to them–a manger. And bless those shepherds. They believed enough to go and see and know, when they saw the baby in that manger, that he was the Messiah, the Savior of the world. They left the manger where the baby lay praising God and sharing this good news. God sought out he most humble persons in society to learn about the birth of his Son, Jesus, and they shared the marvelous amazing good news everywhere they went. The praise and worship of the shepherds came after two previous events: divine revelation given by the angel, and verification by the shepherds. The word of revelation was confirmed by what they experienced at the manger. The shepherds' praise was not a hysterical, emotional response to the spectacular heavenly phenomenon. Their praise was the result of what they personally verified at the manger. They could not keep the news of a Savior to themselves. There was nothing ho-hum about this message, they had to tell everyone.
Questions
What does that say to us?
If the night crew of shepherds in the Judean hills left their flocks and made haste to see the Savior in his birth place, and then shared that good news with others why are we so slow to share the good news of Jesus with others we meet each day?
Do we take for granted this message of angels, and our own experience of meeting Jesus so much that we just don't share it?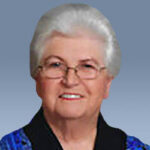 Sue is NLS Spiritual Director, since 2019 and is a retired Lutheran Pastor (ELCA). Active in VdC since 1995, she has served two terms on the Board of the Texas VdC Secretariat, and also on the Texas Gulf Coast VdC Board as Spiritual Director since its start-up in 2017.