During the many years of my ministry, I've had the opportunity to give numerous Bibles to people. I remember one time, one of our older saintly ladies at my first congregation, died, and her family wanted to know if I'd take all her old Bibles. I thought having an extra Bible or two in my possession would be a good thing. So I agreed. But to my surprise they brought me a whole box of Bibles that she had collected, like for her entire lifetime. Most were in really good condition.
I thanked them for their generosity and of thinking of me to receive these treasures, but I have to tell you, deep down in my heart I started wondering what I was ever going to do with all of those Bibles.
It was then the Lord started putting people in my life that needed a Bible and before I knew it, all my Bibles were gone. I had given them all away. I then started wondering how God was going to give me the next shipment of Bibles to distribute.
There was one other common factor that went with all these Bibles. In each and every one of them I wrote the same thing on the inside page. I don't remember where or when I first heard it, but it's truth stuck with me and I wanted it to stick with the person who received the Bible from me. Even as I still gives Bibles away today, I still write the same thing:
"This Book will keep you for sin" OR "Sin will keep you from this Book."
Even today, it still touches me deep down inside. I've come to know that in order to lead a successful Christian life, I've got to spend time with the Author and Perfector of my life. I've got to consume it like I would food for my physical body.
Here's just the truth… The more I know God's Word and what it says, the more I'm aware of what He wants and desires from me. The more aware I am of what He wants and desires from me, the less likely I am to stray for His commands. The less I'm in His Word, the less I know of what He wants and desires from me, the more like I am to stray from His commands.
The person who wrote Psalm 119 stresses this many times throughout these verses. He even says…
"Your word is my only hope." Psalm 119:114 CEV
Here's my word of encouragement for you today: Are you looking for hope in your life. There's only one place to find it – in His Word. Remember: "This Book will keep you from sin" OR "Sin will keep you from this Book."
Father,
Help me to treasure the precious gift of Your Word above everything else. In Jesus name I ask this, Amen.
Rev. Dr. MM Marxhausen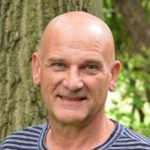 Mark was Spiritual Director for VdC from 2016 to 2019. He's written many of the devotions, especially the Devote and Affirm series, found on this website.