One of the most impactful things about my weekend, and probably many of yours as well, was the "Day in the Life" talk that covered Jesus crucifixion, death, and resurrection.
I never thought of the in depth details of what Jesus really went through. From my farthest memories as a child, I heard "Jesus died and rose again… to give you eternal life in Heaven".
It never really dawned on me how painful it was, or the details of the experience that our Savior went through. The barbaric and tragic way He was treated. The physical ailments that he suffered through on that Thursday and Friday. All of it, "for me".
Up to that point, it was just a "He did it", and the focus was on His resurrection and conquering of death and sin.
Since my weekend, I have served on several teams and seen many different ways the talk has been done. One of the most impactful ways was to use clips from the movie, "The Passion of the Christ".
The graphic nature of seeing what Christ went through was so powerful, and jarring. I was speechless and in tears. The visual imagery was so powerful, and took my recognition and thankfulness of just what a sacrifice he made to a level it had never been before. He CHOSE nails. He chose to be treated that way for me. My heart just sunk into my stomach.
Now every year, I watch that movie again as Holy week approaches.
It is important for me to remember and not to "gloss over" the Crucifixion on my way to Easter celebration and the Resurrection story. I need to spend time in thought about the sacrifice He made, and give Him great thanks.
As we go through Lent, I pray that it is a meaningful time of reflection and prayer for you. My God bless you and keep you during this time.
In His service,
Brian Schwarz, Executive Director
---
Source: https://en.wikipedia.org/wiki/The_Passion_of_the_Christ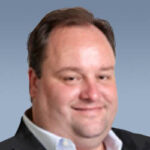 Brian is NLS Executive Director, from 2020 to present. He began his Via de Cristo journey on Indiana/Kentucky men's weekend #57 back in 2008. It was a life-changing experience for him and bred a passion for Christ and the VdC ministry itself.