"Blessed are the poor in spirit, for theirs is the kingdom of heaven."
Matthew 5:3
As Jesus taught the crowds that day every sentence of his teaching began with the word blessed. This blessedness describes a happiness or joy that comes from a right relationship with God, rather than some emotional pleasure or good fortune as the word is often used in everyday conversation. So Jesus says that when we fully realize that we desperately need to be in a right relationship with God we are blessed. We are blessed because it is the beginning point for a relationship with God that will grow into something beautiful, something close and personal, and something that continually feeds our souls and guides us to loving and serving God by loving and serving others.
I remember as a child learning to stand on my head. I had to work at it for a while before I accomplished it. Something I remember about the experience of standing on my head was, in that upside down position, everyone else looks like they are walking upside down. Being poor in spirit turns the conventional wisdom of our day upside down. When we are poor in spirit and recognize our need for a deeper relationship with God we are at the point of seeking God for a relationship that is more fulfilling and open. It seems that Jesus is speaking as if he saw conventional common sense as being upside down. This beatitude, like all the others, is like a glowing candle, waiting to light our spiritual pathway to love God and love others.
If we are just a fan or an observer of Jesus, we are not truly interested in being poor in spirit, and we can't seem to find the time to bear the light of Jesus into a hurting world. But friends of Jesus, live out a different story. They keep open to his spirit, his love and his meaning for life. They deeply desire to know Him and be like him, and these friends of Jesus will live out a different story.
The current system in which we live quickly brushes off all those Jesus affirms as blessed by The Kingdom of heaven. Jesus showed us in his short life on earth what he proclaimed and lived out in seeking God. It is a new way of seeing, a new way of defining life. If we are poor in spirit we are invited to look and detect a new reality that is coming into being with those who know they need and desire a deeper relationship with Jesus. May we each seek this close relationship with Jesus, and pledge our allegiance and our hearts to the kingdom of heaven Jesus desires for each of us.
Questions
In what ways do you feel you are poor in spirit?
As you ponder your relationship to God, are there ways in which you see you need to and desire to grow closer?
As you think about your own relationship with God, how has it changed into a growing, moving relationship that has moved you toward loving and serving others?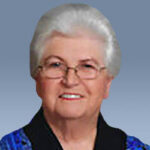 Sue is NLS Spiritual Director, since 2019 and is a retired Lutheran Pastor (ELCA). Active in VdC since 1995, she has served two terms on the Board of the Texas VdC Secretariat, and also on the Texas Gulf Coast VdC Board as Spiritual Director since its start-up in 2017.