"If we live by the Spirit, let us stay in step with the Spirit."
Galatians 5:25
By now, we are all past the Christmas Season and the New Year celebrations.
Some of us may be in the "Bah Humbug" frame of mind due to the unrest and division in our country. Things look so different than any other January in my memory. But maybe we can each spend more time thinking about what is really important to us.
Our Lord teaches us the importance of walking in our convictions. With so much happening in the world, I think for many of us as Christians, it has caused us to look inward at the heart of who we have become. It has made us look closer at who we are in the flesh and who God actually calls us to be. Do we look more like the world—than people of God?
It has made us ask, "how did we get here and how can I move forward boldly living for Christ?"
We are united in His love and by our commitment to the Via de Cristo ministry. Let us
step forward in prayer and grace-driven conviction to walk the journey in His name.
—Wendy Showalter, NLS President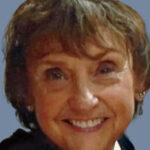 Wendy was NLS President from 2019 through 2021. Many of her past notes can be found on this site and in Conexiones Newsletters.